South East Asia
The unprecedented pace and scale of economic, political, and demographic change in Southeast Asia in recent decades has brought about increasing levels of population mobility and greater diversity in the groups involved.
Migration as a family-based strategy for poverty alleviation is clearly seen in the growing number of women migrants employed as domestic workers, nannies, and elderly care workers in destination areas such as Singapore, Malaysia, and other highly industrialised countries. Marriage migration across national borders is another form of migration of increasing significance in the region as women from less developed parts of Southeast Asia seek to improve their livelihoods and those of their families. With stark regional disparities and weak regulation measures, undocumented migration and human trafficking, particularly along the Mekong sub-regional corridor and Indonesia-Malaysia border, remain longstanding issues in need of intervention.
Regional partner
The Asia Research Institute (ARI) is a world-leading hub for social science and humanities research on Asia. Over the years, it has played a prominent role in promoting collaboration and knowledge exchange amongst local and international scholars who are leading experts in a variety of disciplines. In the field of migration studies, scholars have actively pursued research on wide-ranging topics including gender, remittances, labour recruitment, transnational care arrangements, and left-behind children's health and well-being. ARI was a partner of Migrating out of Poverty from 2010 - 2017.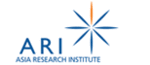 Role of Migrating Out of Poverty in Southeast Asia
Although migration is frequently promoted as a development strategy by labour-exporting nations such as Indonesia and the Philippines, the links between migration and issues including poverty reduction, health, education, and gender equality remain largely unclear. Migrating out of Poverty seeks to address this gap by providing robust research that aims to improve the lives and well-being of migrants and their communities through a range of policy engagement and capacity building initiatives.
Check out ARI's Migrating out of Poverty blog
Our partner's in Singapore tweet here: @ARI_MOOP
They also have an ARI Video Vimeo page
Regional projects
Financing Migration, Generating Remittances, and the Building of Livelihood Strategies: A Case Study of Indonesian Migrant Women as Domestic Workers in Singapore (April 2012 – Current)
Singapore Country Programme [PDF 510.20KB]